Home Mail Articles Supplements Subscriptions Radio
---
The following article appeared in Left Business Observer #121, September 2009. Copyright 2009, Left Business Observer.
Like this? Subscribe today! There's a lot more where this comes from—and only some of it makes it to the web for free consumption.
---
The limits of anti-racism by Adolph Reed Jr.
Antiracism is a favorite concept on the American left these days. Of course, all good sorts want to be against racism, but what does the word mean exactly?
The contemporary discourse of "antiracism" is focused much more on taxonomy than politics. It emphasizes the name by which we should call some strains of inequality—whether they should be broadly recognized as evidence of "racism"— over specifying the mechanisms that produce them or even the steps that can be taken to combat them. And, no, neither "overcoming racism" nor "rejecting whiteness" qualifies as such a step any more than does waiting for the "revolution" or urging God's heavenly intervention. If organizing a rally against racism seems at present to be a more substantive political act than attending a prayer vigil for world peace, that's only because contemporary antiracist activists understand themselves to be employing the same tactics and pursuing the same ends as their predecessors in the period of high insurgency in the struggle against racial segregation.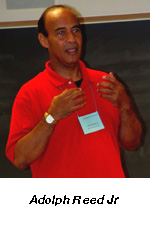 This view, however, is mistaken. The postwar activism that reached its crescendo in the South as the "civil rights movement" wasn't a movement against a generic "racism;" it w