---
Doug Henwood is the author of three books, After the New Economy, Wall Street, and The State of the USA Atlas .
---

Published by the New Press, October 2003. Forthcoming in paper, June 2005.
One of Newsday's best books of 2003.
Fast, funny and consistently merciless toward the purveyors of economic delusion and deception. I feel ten times smarter than I was before I read this book!
-Barbara Ehrenreich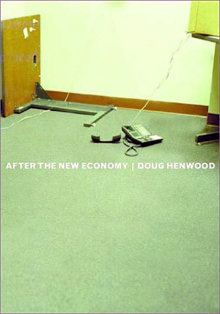 "essential reading...highly recommended" - Choice
The best single new economy book
-Brad DeLong
Here, finally, is the touch of the real thing, the antidote to the flourishing fashionable anti-capitalism in today's academia - like a glass of freshly squeezed orange juice after a chemical 'orange drink.' If Doug Henwood were not to exist, he would have to be invented: the will to change the situation is organically inscribed into his precise economic analyses. My dream is that no only economists and sociologists, but also everybody in Cultural Sciences will read this book!
-Slavoj Zizek
Doug Henwood is a wicked genius who makes you laugh while pointing out the most horrific consequences of capitalism's most titillating hours.
-Susie Bright
After Doug Henwood's scorching appraisal, all that remains of the new economy boosters is a faint smell of burning plastic.
-Greg Palast
intricate and satisfying...enough to keep any new new economy in hiding for decades
- Kirkus pre-publication review
Order your copy today!
from the publisher's description
Rarely a day went by in the dizzy 1990s without some well-paid pundit heralding the triumphant arrival of a "New Economy." According to these financial mavens, an unprecedented technological and organizational revolution was ushering in a