Home Mail Articles Supplements Subscriptions Radio
---
The following article appeared in Left Business Observer #117, March 2008. Copyright 2008, Left Business Observer.
---
Awe, shocks!
Naomi Klein, The Shock Doctrine: The Rise of Disaster Capitalism. Metropolitan Books, 558 pp., $28.
Naomi Klein made herself deservedly famous with No Logo, whose official U.S. publication date of January 15, 2000, was just weeks after the popular hijacking of the WTO summit in Seattle. Not only was it well-timed, it was notable for moving beyond the usual critiques of consumption that had been staples of what was then called the antiglobalization movement and into the neglected world of production. It was a comprehensive look at the economic world of the time that helped energize a movement and deepen its understanding of the world.
Seven years later comes The Shock Doctrine, an even more ambitious book that aims to provide,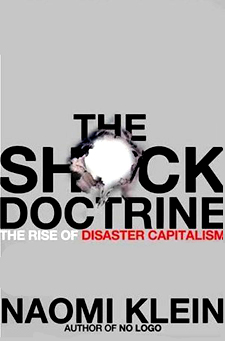 in blurber Arundhati Roy's words, "nothing less than the secret history of what we call the 'free market.'" Although one should never look to jacket blurbs for measured evaluations, there's really little that's secret about this history, and Klein's organizing "shock" metaphor explains nowhere near as much of the world we live in as she thinks it does.
Crushing cousins
The Shock Doctrine is organized around a conceit: "sho