Home Mail Articles Supplements Subscriptions Radio
---
This article is original to the LBO website. (c) Copyright 2009, Michael Yates. All rights reserved.
---
The dubious legacy of César Chávez
Randy Shaw, Beyond the Fields: César Chávez, the UFW, and Struggle for Justice in the 21st Century (Berkeley: University of California Press, 2008), 347 pp., $24.95.
The thesis of this book is simple. Randy Shaw argues that most of the social movements of the contemporary U.S.—labor, immigrant rights, antiwar, worker and consumer health and safety, anti-sweatshop—are fundamentally the progeny of César Chávez and the United Farm Workers (UFW) union. Shaw attempts to prove this by showing that UFW alumni have been critical leaders of these movements, and these causes have employed tactics pioneered by Chávez and the farm workers. Shaw's argument is deeply flawed.
It is certainly true that thousands of young people, radical activists, trade unionists, clergy, and assorted other actors, politicians, writers, and artists worked for or with the UFW during its heyday from the mid-1960s until about 1980. I did, in the winter of 1977, when I worked at La Paz, the union's headquarters in Keene, California. For most of us, our UFW experiences were exciting and meaningful. We carried them with us, and they informed our lives and actions.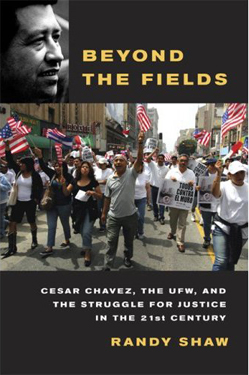 But the same things could be said about the IWW before the First World War; the CIO or the Communist Party during the 1930s; or the SDS, the SWP, and the antiwar and the civil rights movements of the 1960s. Of course, there were historical continuities in all of these movements—a problem for Shaw's arguments. The UFW didn't spring full-blown from the body and mind of César Ch&aacute