xHome Mail Articles Stats/current Supplements Subscriptions Links
---
A daily report from the World Trade Organization summit, Seattle
by LBO editor Doug Henwood
Friday, December 3
Today's highlight, aside from the collapse of the offiicial proceedings (about which more tomorrow), was a labor rally in support of free speech and the 600 or so arrested protesters. (Depending on whom you talk to, somewhere between a majority and almost all of those arrested have refused to give their names, greatly clogging the criminal justice machinery.) Several thousand marchers congregated at the Labor Temple, the HQ of many union locals as well as the city's Central Labor Council - but not just unionists, but direct action youth and other members of this glorious coalition as well.
The theme of the week - the coming-together of previous opposites - continued. To anyone schooled in the 1960s, "hard hat" is synonymous with cretionous reactionary, but not in 1999.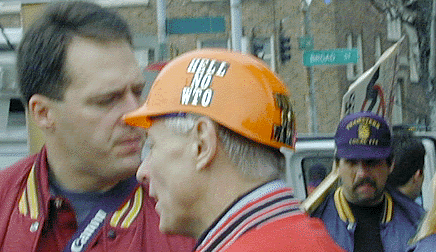 There were several other striking images from the event: a classic disaffected-looking youth carrying a Financial Times under her arm. And a comment from one of the topless Santa Cruz Lesbian Avengers (the one on the left): "When we got here, the Steelworkers weren't very queer-friendly. As the week wore on, they got more comfortable with us. My nipples stand in solidarity with the Steelworkers and Teamsters and all the laboring people."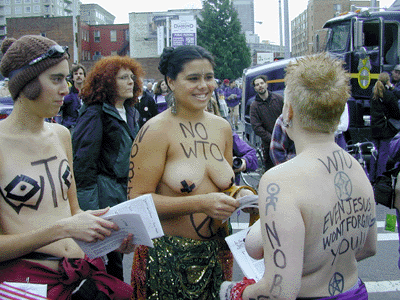 Another quote from a locked-out Kaiser Aluminum worker: "A year ago I thought a redwood deck was the most beautiful thing in the world. Now I understand the importance of sustainability. I guess I'm an environmentalist now." One more, from another union worker: "When you're gassed together, that forms a bond that's hard to break." And there was the amazing sight of guys in union jackets carrying a "In Soldiarity: Free The 500" sign.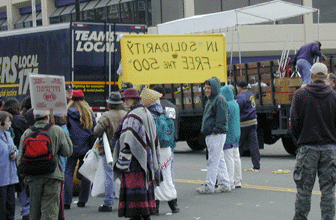 More scenes from the march, blessedly free of editorial commentary.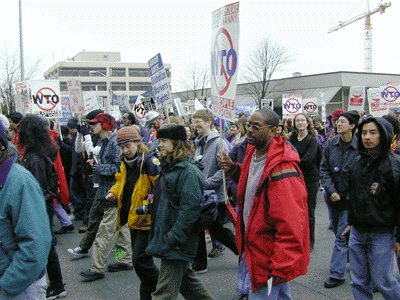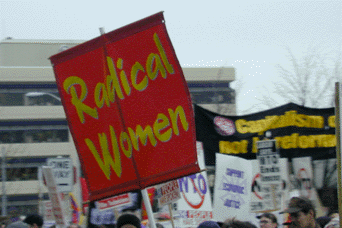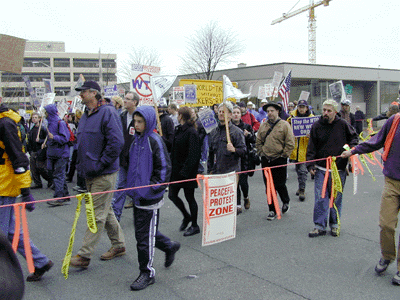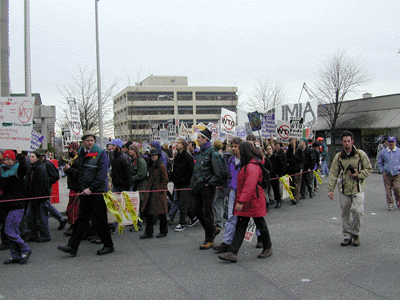 And joining the themes of class politics and "identity" politics: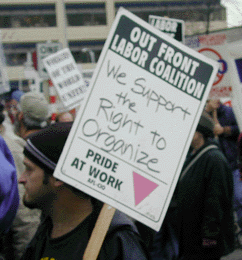 ---
© Copyright 1999, Left Business Observer. All rights reserved.
---
Home Mail Articles Stats/current Supplements Subscriptions Links